A group of Russian scientists has released satellite images of more than two hundred bizarre, vibrant blue lakes in the Arctic region of their country which are fizzing and bubbling 'like Jacuzzis' because of methane gas leaks beneath the surface of the water.
Vasily Bogoyavlensky from the Russian Academy of Sciences explains that these pools of water are a form of thermokarst lake. These lakes form when permafrost begins to form and causes the surface to collapse and fill with the melting water. Most thermokarst lakes are dark and still but these lakes have an incredibly distinctive blue and bubbling appearance because of the enormous methane deposits beneath the surface.
The methane leaks themselves are causing the bubbling appearance of the lakes which have developed their brilliant blue color because of the kind of algae that is attracted to the area because of the highly sulphuric content of the leaking methane gas.
The odd bright blue lakes have emerged near oil and natural gas deposits on the Yamal and Gydan peninsulas in the Russian region of Siberia. Scientists studying the landscape of Siberia are very familiar with thermokarsts which are a fairly common feature of the wintry landscape. In the past, some of these thermokarsts have attracted international attention such as the phenomenal 'Doorway to the Underworld', a crater which is so deep that it has revealed the remains of ancient, buried forests.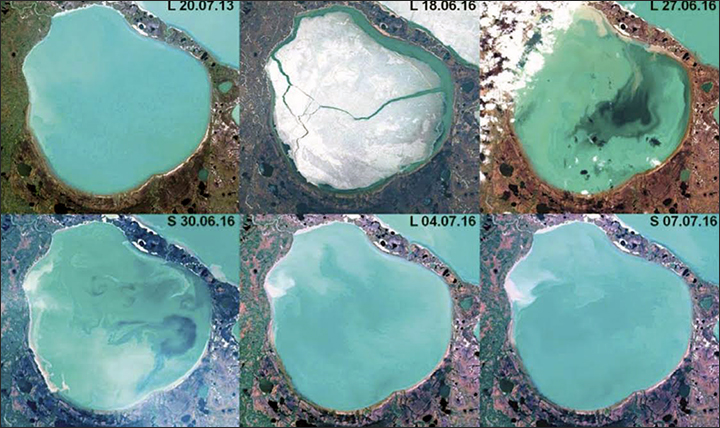 However, even these experts claim that they have never seen anything like these stunning blue lakes before. "For example, over one of the gas deposits (in Yamal), lakes are located along two lines. Looking like a giant cross, "said Bogoyavlensky. He says that this means that there is likely to be a "genetic connection of craters with deep faults in the Earth's crust." However, he said that further seismic research needed to be performed to confirm this theory.
What is particularly unusual about these vibrant blue lakes is that they are still emerging during freezing temperatures which suggest to the scientists that their emergence might be due to global warming. Throughout 2017, they intend to thoroughly investigate whether these unusual lakes are linked to climate change.
Image: Vasily Bogoyavlensky