Researchers examining the so-called Blob, an abnormally warm patch of water in the Pacific Ocean have discovered that it has caused a huge amount of damage to the ozone layer above the west of the United States.
The Blob was first detected in 2013 and was noted to have increased its area throughout both 2014 and 2015. While it appears that it slightly diminished in 2016, it persisted throughout most of the year. At its peak, the Blob covered a huge area of around 9 million square kilometers (3.5 million square miles) covering a distance all the way from Mexico to the northern US state of Alaska.
Researchers warn the Pacific Ocean 'Blob' has damaged the ozone layer.
At the time, scientists were aware that it was causing a huge number of problems in the ocean. The Blob was linked to several mass-die offs marine animals throughout 2015. In California, thousands of sea lions starve to death because of the changes in their environment. There were records kept of an unprecedented die-off of sea birds across the western United States. The problems caused by the Blob also spread to the land. The unusual warmth of the water was linked to freak weather conditions in the United States, and it also allowed for the conditions to develop to allow the growth of a massive toxic algal bloom across the western coast of America. Now it appears that the Blob also had an impact on air quality too.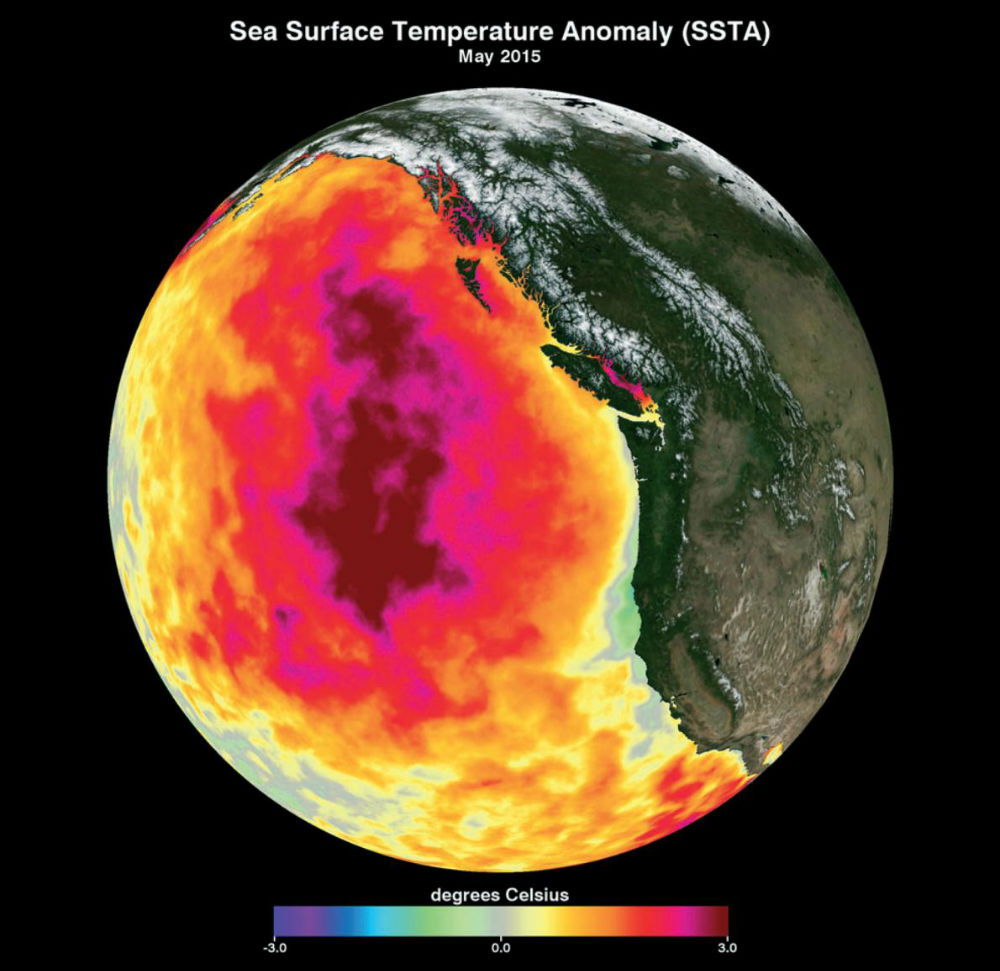 "Washington and Oregon were really the bullseye for the whole thing, because of the location of the winds, "explained Dan Jaffe of the University of Washington Bothell. He also said that the Blob caused both Salt Lake City and Sacramento to exceed their ozone limits even though they were on the outskirts of the event.
Even though this ozone spike was only a temporary occurrence, researchers studying the effects of the blob say that it must serve as a warning for the future. Now it is very clear that there is a connection between sea-surface temperatures and ozone production, measures must be taken to protect the temperature of the ocean.
"This phenomenon is something new, "said one of the team, Chelle Gentemann from Earth and Space Research in Seattle, "From that entire record, this event is unprecedented in magnitude and duration. There's just nothing like it in our historical record." However, as the climate continues to change in the coming years, events like the Blob might become more commonplace.
Ozone pollution can be incredibly dangerous. It can cause serious respiratory dysfunction and can aggravate existing conditions including pneumonia, asthma, and bronchitis which means that its effects can be deadly.
This article (A massive abnormal 'blob' in the Pacific has increased levels of ozone) is free and open source. You have permission to republish this article under a Creative Commons license with full attribution and a link to the original source on Disclose.tv