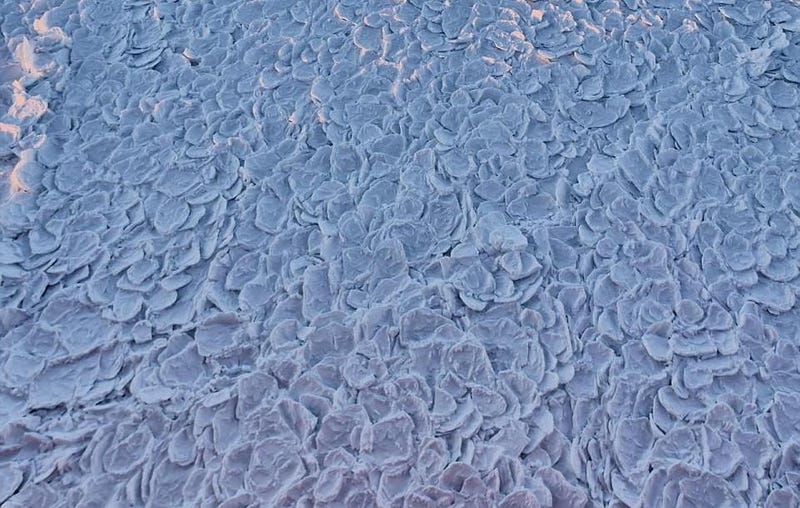 Dragon skin ice sounds like something you'd encounter beyond The Wall in the Game of Thrones fantasy realm. But good news nerds, you can find this magical-sounding stuff right here on Earth—though you've gotta be lucky, and willing to travel to some of the most hostile environments on the planet. Like the team of Antarctic scientists who came across vast expanses of the bizarre, scaly ice in the Ross Sea last week.
It's autumn in Antarctica, and while most south pole expeditions have long since departed for warmer waters and sunnier days, the 27 scientists aboard the Nathan B Palmer research vessel continue to plow toward the south polar in their quest to understand coastal polynyas, areas of open ocean where ice forms incredibly fast, due to the constant exposure of fresh water by hurricane-force, "katabatic" winds. Last week, these researchers were treated to a rare and dazzling sight: sheets of scaly ice that look a lot like the microscopic structures of a butterfly wing. Or, to the more fantastically-inclined, dragon scales.
"Dragon-skin ice is very rare, bizarre, evidence of a darker chaos in the cryospheric realm, not seen in Antarctica since 2007," Guy Williams, a scientist at the Institute of Marine and Antarctic Studies at the University of Tasmania participating in the ongoing expedition, said in a statement.
As Williams notes, dragon skin ice is indeed a rare sight, though that may simply be because we don't hang around Antarctica in the winter too often.
"I've never seen anything like it, but few people have been where he is in winter," Cecilia Bitz, sea ice researcher at the University of Washington, told Gizmodo.
Bitz noted that the conditions described by Williams' in the press statement "sound normal for an Antarctic winter. Katabatic winds are pervasive off Antarctica. They cause polynyas, which are the sea ice factories of the south."
"I've never heard of dragon skin ice before, but it looks like pancake ice that is frozen on top of a sheet of ice," Julienne Stroeve, sea ice researcher at the National Snow and Ice Data Center, told Gizmodo. "Really cool pictures of them."
As for how the mysterious ice formed? Pancake ice, which Stroeve says is common in Antarctica, forms when piles of slushy ice are shaped and sculpted by wave action or winds. Bitz agreed with this assessment. "It looks like the sea ice grew in small disks and then piled up on itself in the strong winds. Nothing unusual about that."
As of last week, Williams and his crew were crossing the Terra Nova Bay polynya in West Antarctica 's Ross Sea, waiting for the katabatic winds to die down so they can continue to study the shelf water beneath the ice. We've reached out to Williams for comment, and if he happens to be near an internet machine, we'll update this post when we hear back.
Dragon skin ice may be the natural consequence of mundane physics, but it's certainly a reminder that the most distant corners of our planet are filled with otherworldly beauty.
The #1 UFO Resource
1 UFOS – News – Books – Videos – Feeds
1 UFOS Search Engine is Powered by the 1 Search Project