Bridget Nielsen is a Galactic Ambassador and she has explained alien hybridization in full. Nielsen and other followers firmly believe that Aliens, with the name of Greys, are a future version of ourselves and they reproduce with humans so as to avoid becoming extinct.
According to Nielsen and other followers, the Greys destroyed their own planet and thanks to GMO foods they are reaching the point where they cannot reproduce. Nielsen said that in a way they came up with a solution that was very clever as they are going back to the version or us before everything got messed up.
Mum Of 10 Hybrid Children Explains Alien Hybridization
In a video, which you can see below, Bridget Nielsen talks about the alien hybridization program and explains it in full. She believes that the program is responsible for her having 10 alien hybridized children via dream state while on an alien craft. Nielsen said that her name is Bridg-ET and through her website states that she is a proud citizen of the human race along with being an ambassador to Earth. She goes on to say that she loves Earth and that she is learning to love and go with the flow of the species more each and every day.
Nielsen claims she was born to BRIDG-ET and that one of the biggest themes of the transformational incarnation for her has been to connect her human self to the infinite divine expression. She went on to say that this life, and this applies to many followers, is an awakening that is incredible, and remembering their galactic family is one of the most critical pieces and realizing that they are much beyond just a body, earth, space-time and a lot more.
Bridget revealed that her piece of the puzzle was to bridge herself, along with others, to the stars. She reflected that when she was small, she would cry in happiness as she looked up at the stars knowing that there was so much more to life.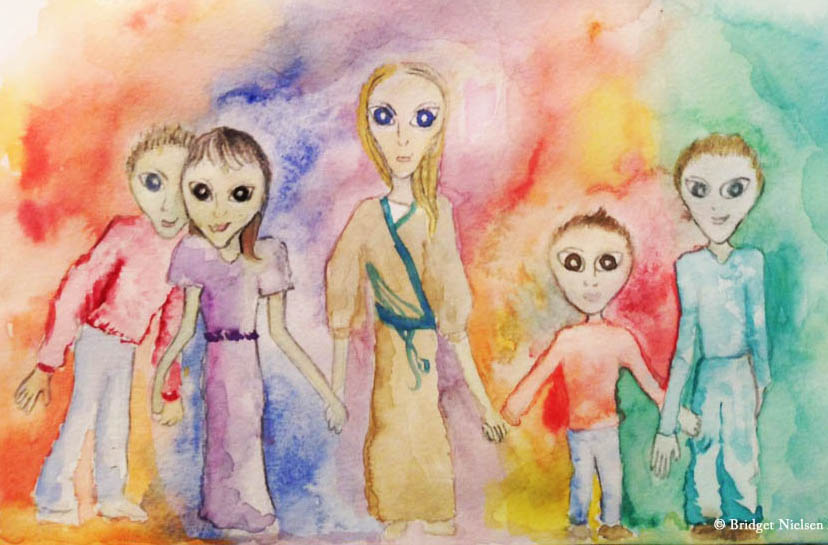 Throughout the years Nielsen said that she had recalled her participation in the hybrid program and the part that she played in it. One of Nielsen's gifts is connecting with other realms, a medium if you like; she makes use of the skill to connect not only her but other parents, with their hybrid children.
Nielsen said that she was willing for her life to turn into a dream world and as such she asked her heart if she had hybrid children. Upon doing so, Nielsen revealed that her soul received a new level of light, something which she hadn't felt since she was a child, and she knew without a shadow of a doubt that she had children. She went on to say that her children lead her on her pathway and give her the power to be more. Nielsen believes that once she is acting and living in the fullest natural expression, her hybrid children will come to Earth.
During 2013 Nielsen said that she had enjoyed "future" memories of when her hybrid children come to Earth and make contact with the communities into which they will integrate. This is a reality that is a wonderland of bliss according to Nielsen.
[embedded content]