Journalism. For many years, many reporters and journalists have been trying to make a mark on the world by having the next "big news scoop".
From then on, in order for reporters to gain fame, many stories have been exaggerated, blown out of epic proportions or just a blatant lie. Free speech in a world so technologically as advanced as we are today is tough – governments all over the world have eyes everywhere, in order to keep tabs on what is happening around the world.
#CNNBlackmail: Ethic concerns raised about CNN
The braver ones – those who stand up, fight for the rights for reporters to report fearlessly – and openly, about the truth behind their stories are on the front lines of free speech everyday. However, they are still being censored till today.
More commercialized news outlets such as media giant CNN steps into the equation at this point in time. The race to fame has got many questioning the authenticity and credibility of many news articles and what one reads online. Big news outlets like CNN are more credible because it is a 'branded' name in the reporter world. This allows CNN the monopoly of news, a very dangerous and powerful position that has led many to fear commercialized news outlets and the damage they can do. Or the bullying that might ensure.
CNN makes headlines for bullying a Reddit user – ever since President Trump called CNN a 'fraud' and retweeting the GIF this user, "HanAssh****Solo has gotten into hot soup, but the entire internet is behind him. The most recent trending tag on Twitter is #CNNBlackmail, soiling CNN's name further as there have been many scandals about the news agency recently, undermining their credibility as a company in the eyes of Americans.
This all started when President Trump retweeted a funny video about mocking CNN. In response to this, CNN tracked the Reddit user down to intimidate him into removing the videos mocking their company and GIFs made about them that shows them in a bad light. They released a statement claiming: "he is a private citizen who has issued an extensive statement of apology, showed his remorse by saying he has taken down all his offending posts and because he said he is not going to repeat this ugly behavior on social media again." Many Twitter users took to the social media platform to blast CNN on their bullying. Thus, the tag trended, making it to the top.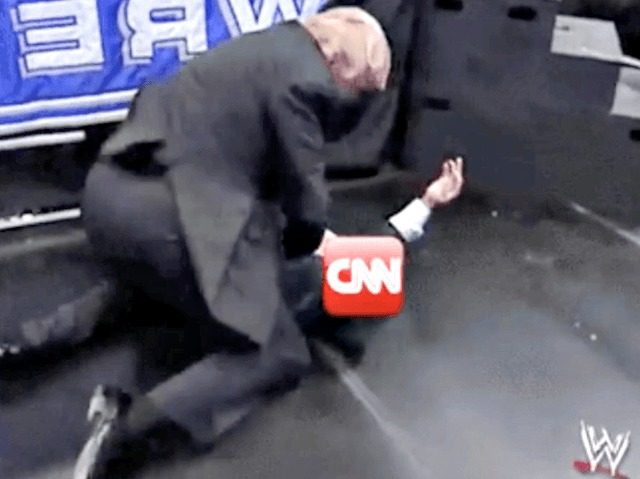 A meme about Donald Trump attacking CNN, the GIF that got user HanAssh****Solo into trouble
Social media does have its flaws, but in times like these, one can see how powerful social media can be when it comes to allowing people to voice out their opinions against media giants that have taken things too far. This has caused even more memes and funny videos about CNN, putting the company's name to shame. Julian Assange, the founder of Wikileaks, has also taken to Twitter to blast CNN, tweeting: "A multi-billion dollar TV network blackmailing a private citizen into not making funny videos about it is not journalism, CNN. #CNNBlackmail
Way to go, CNN! #CNNBlackmail out.