An iceberg the size of Delaware is about to break loose from Antarctica.
Scientists from the British Antarctic Survey have released a press statement warning that an iceberg approximately the same size as Delaware is on the verge of splitting off from a vast ice shelf in Antarctica and floating off into the ocean.
According to the researchers, a huge rift has been forming across the Larsen C ice shelf for a number of months. In December, the rift began to accelerate its growth at an alarming rate. The latest observations from the team suggest that there is now only 12.5 miles of ice preventing the 1,930 square mile from breaking loose. "If it doesn't go in the next few months, I'll be amazed, "one of the lead researchers, Adrian Luckman from Swansea University said, "It's so close to calving that I think it's inevitable." When the iceberg does eventually break free it is expected to be one of the largest ever recorded on the planet Earth.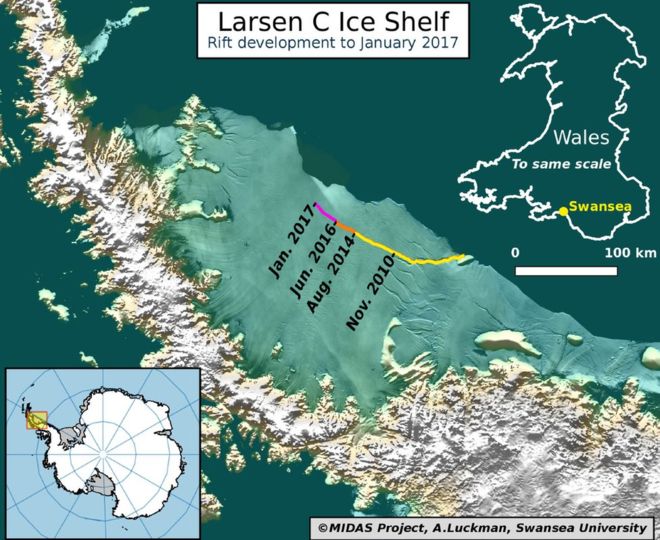 The entry of this enormous iceberg into the Earth's waters may only be the beginning of the problem. The scientists think that this incredible mass of ice may be the only thing that is presently keeping the ice shelf from complete collapse.
The Larsen C ice shelf is one of the largest ice shelves in Antarctica and is responsible for holding back a significant amount of ice from entering the world's oceans. As the ice shelf floats directly on the ocean, it does not currently contribute to sea levels. However, when portions of the ice shelf begin to cleave away it could threaten the stability of the entire region. "The calving of this large iceberg could be the first step of the collapse of Larsen C ice shelf, which would result in the disintegration of a huge area of ice into a number of icebergs and smaller fragments, "said glaciologist David Vaughan from the British Antarctic Survey.
If the ice shelf does collapse, it will be the third of the Larsen ice shelves to have toppled into the ocean in recent years. The Larsen A ice shelf collapsed in 1995 and was shortly followed and Larsen B ice shelf in 2002. Following the collapse of these ice shelves, huge amounts of ice were let loose into the ocean which resulted in a significant rise in the sea levels. It is estimated that if the Larsen C ice shelf were to collapse that the sea levels for the entire planet would rise by approximately 10cm.
The team has not speculated as to whether climate change has been a significant factor in the rift in the Larsen C ice shelf but they have commented that rising temperatures have certainly caused a thinning in the structural integrity of the enormous natural structure in recent years.
This article (Dangerous: A 1,930 Square Mile Iceberg Breaks Off From Antarctica) is free and open source. You have permission to republish this article under a Creative Commons license with full attribution and a link to the original source on Disclose.tv