NASA have announced plans to construct a manned spaceport orbiting the moon, the primary use of which will be a staging area for deeper space exploration.
The station, being called the Deep Space Gateway, is part of an ambitious project by NASA, who are planning to launch at least one flight per year in the future.
The Deep Space Gateway is the second stage in a multiphase project the first of which is the use of their still under development next generation SLS rocket and Orion spacecraft for extended operations in space. Project spokesman William Gerstenmaier said of the gateway:
NASA announces plans for Deep Space Gateway
"I envision different partners, both international and commercial, contributing to the gateway and using it in a variety of ways with a system that can move to different orbits to enable a variety of missions, "
One of the eventual aims of the project is to create a reusable spacecraft that uses a combination of electric and chemical propulsion. A craft of this kind would not only be much cheaper than the currently used single use rockets but would enable the frequency and scope of missions launched to increase greatly.
From the press release:
"The gateway and transport could potentially support mission after mission as a hub of activity in deep space near the moon, representing multiple countries and agencies with partners from both government and private industry"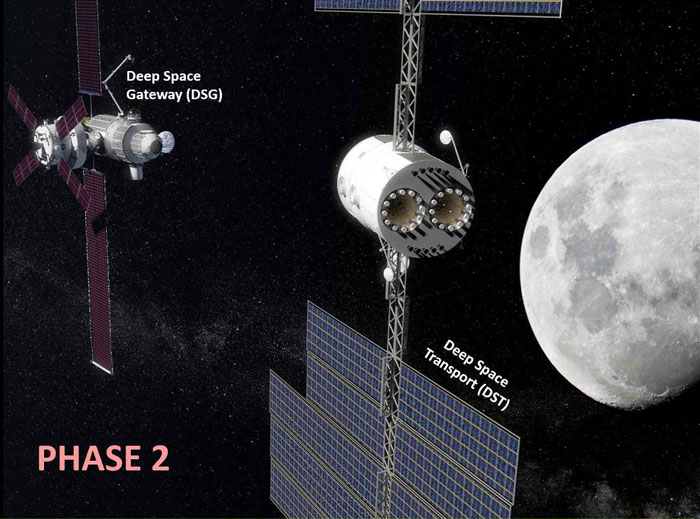 One of the more interesting points in the quote is the idea that the spaceport would be made available to use by the private sector as well as government funded space programs. Clearly, NASA envisions a future where space exploration is achievable by private enterprises as well as themselves and a handful of other agencies. Albeit most of those private space companies are currently in their infancy.
After several years without much to capture the public's imagination about space exploration, the announcement will likely garner a lot of interest for the space agency, which has suffered from budgetary cuts and a lack of public interest of late.
If the project runs according to schedule in a matter of years, manned missions to Mars will become a reality. And further destinations will be entirely possible to reach as well. If the Lunar Spaceport is a success, further spaceports perhaps orbiting Mars or other planets could pave the way for human expansion and eventually colonization of the solar system. Bringing with it great advances in both technologies that would indirectly benefit people on Earth and expanding our knowledge of space and the solar system in general.
See the full press release from NASA here: https://www.nasa.gov/feature/deep-space-gateway-to-open-opportunities-for-distant-destinations
[embedded content]