The Hindus have saying Kali Yuga which states "During the passage of time, the consciousness of man traversed a very long period of obscurity" and this is about to end. People are now at the frontier between two epochs, the Kali Yuga and a new era about to be entered into.
Divine Fire Will Purify The Earth Readying People For The New Era
Gradual improvement is starting to occur within the sentiments, thoughts and the very acts of human beings, however, soon everyone will be faced with divine Fire and this will purify along with prepare people when it comes to the New Era. Man is going to rise to a degree of consciousness that is superior and which is going to be indispensable to gaining entry to a new life, or ascension.
However, decades are going to pass before the fire comes and it is going to transform the world as it will bring with it a new moral. The huge wave is going to arrive from cosmic space and it is going to take over the whole of the Earth. Anyone who tries to oppose it is going to be taken off and put elsewhere.
The New Wave Will Reach The Whole Cosmos
People who live on Earth are not all at the same stage when it comes to evolution. The new wave is going to be felt by every person, and the transformation is not going only to reach to touch Earth, it will also reach into the entire Cosmos. The only thing that man can do right now is to turn to God and try to make improvements consciously and become in harmony with the wave that is soon going to submerge him.
The fire that will come with the new conditions to Earth is going to purify and rejuvenate, along with construct every single thing on Earth. All matters are going to be refined and the hearts of man are going to be freed from troubles, anguish, and incertitude and they will become luminous. Everything on Earth is going to be elevated and improved, while any negative acts or sentiments will be destroyed and consumed.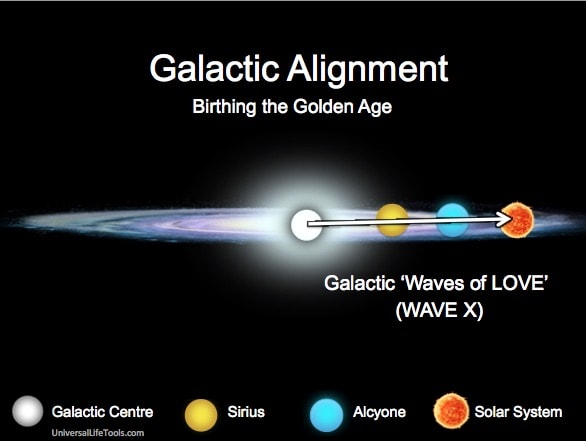 At the moment life is slavery, a prison sentence that is heavy. People should understand this situation and then liberate themselves from it. It is awful to look around and see all of the sufferings and misleading along with incapacity to understand where happiness truly lies. Everything is soon going to collapse, and it will disappear and there will be nothing left of the civilization and its perversity as the whole of the Earth is going to be shaken, and there will not be any trace left of the culture that has kept men under ignorance. It is said that earthquakes are not just a phenomena that are mechanical, it is said that their goal is to waken-up intellect along with the heart of human beings, so they can be liberated from errors along with follies and understand they are not just the only ones in the universe.
The solar system is going over a region of the Cosmos where a constellation that got destroyed had left a mark along with dust. The crossing of space that is contaminated is a source of poison, and this applies not only to the people that inhabit Earth but those living on all other planets in the galaxy. The only thing that is not going to be affected by the hostile environment and influence in has on it is the sun.
Earth Will Be Free Of The Zone Of Contradictions
The region has the name of the "Thirteenth Zone" and it has also been called by the name of "The Zone of Contradictions". It was said that Earth had been enclosed within the region for many thousands of years but now the exit from the space of darkness is arriving and people are on the point of gaining a region that is more spiritual and one in which beings who are more evolved live.
The Earth is said to be following a movement that is ascending, and people should make themselves harmonize with the ascension currents. People who refuse to do so are going to lose the advantage of the conditions that are good that will be offered so that they can elevate. These people will be left behind in evolution, and they are going to have to wait for many tens of millions of years for a new ascending wave to make its way.
Earth Will Be Under Direction Of Love
The Earth along with the universe and solar system will be under a new direction, the impulsion of love. While many believe that love is a force that is derisory, it is one of the greatest of all the forces. Power and money will continue to be venerated just as if life's course depends on it. In the future everyone is going to be subjugated to love; however, it will only be through difficulties and suffering that man's consciousness is going to be woken up.
The prophet Daniel made some predictions that were terrible, which was written in the Bible and they are in relation to the new epoch that is approaching. It was said that Earth will see hurricanes, huge fires, earthquakes and floods and they will destroy everything in their path. It was said that blood is going to flow in huge abundance and explosions that are terrible will resound throughout many regions. Where there once was Earth there will be nothing but water and where there was once water it will become earth.
Following the suffering people that will be saved will then come to know the Golden Age and all its beauty and harmony that is unlimited. People should keep faith and peace during the terror and suffering, and they should not be discouraged as they will have no idea as to what great future is awaiting them when a new Earth comes. Work is going to be less exacting, and people will have the time for artistic, spiritual and intellectual activities. People will live in harmony and will be able to take a voyage in different planes of space and even intergalactic space.
The New Era will be the sixth race and this race is going to be built around fraternity with no conflict of any personal interest. It will be a race of love and will have a brand new continent that is going to emerge from the Pacific. People will see that there is no other path to take and so they will engage the New Life. The new culture is going to see the light of day and will be based on three principal foundations, protection of rights of man, elevation of the humble and meek and elevation of woman.
The good, light and justice are going to win and this is all just a question of time. Religions are going to be purified and all of the believers are going to come together. As the Earth that is known is going to be swept away by the Cosmic Electricity rapid waves. Those who are bad and who have led other people astray will be absorbed by the Cosmic Fire.
Mother Earth Will Reject Those Who Do Not Welcome New Life
Mother Earth will reject anyone who does not accept the New Life; these people are going to be rejected just like fruit that has been damaged. Only the people full of love are going to remain. Following the tribulations, people will stop sinning and will once again follow the path of virtue. The climate is going to be moderated, and the water and air will be pure. The Earth is going to be a blessed place on which to live, but before this happens, there will be great suffering.
Underneath the Earth, there is something very extraordinary getting ready. It will be a grandiose revolution. God has redressed Earth and this is the end of an epoch, the New Order is going to take over from the old and only love is going to reign.