Japanese scientists tasked with exploring the weather dynamics of the incredibly unusual and deeply mysterious planet Venus have found a huge, bow shaped anomaly in the planet's upper atmosphere. The structure is estimated to be around 6,200 miles long and is unaltered in shape and size despite the 255mph winds that have been observed rushing against it.
Japanese scientists find ground breaking anomaly in Venus's atmosphere
Scientists have always been aware that Venus is an incredibly strange planet. The winds in its upper atmosphere have been known to reach staggering speeds of more than 250mph despite the fact that the planet is moving much slower than that. In addition to that, the landscape of Venus is spectacularly inhospitable to life with huge clouds of sulfuric acid swamping the entire upper atmosphere creating conditions on the planet of such heat that the surface could effectively melt lead. Despite all of that, it was not until this research mission that scientists began to discover just how curious the planet is.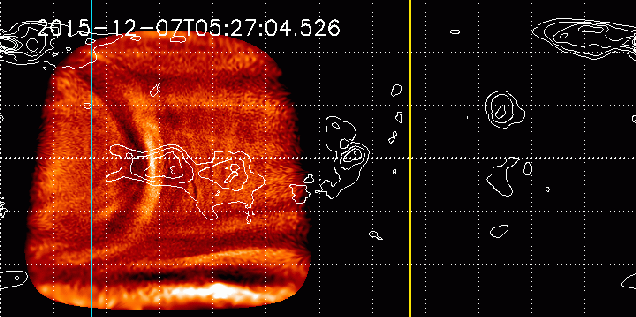 According to an article in Nature journal exploring the discoveries made by the Japanese team, who are based at Rikkyo University, the enormous bow-shaped structure was visible from their designated space craft for some days. The scientists initially thought that it could be either a thermal tide (a theory which was ruled out as Venus has no natural satellites) or an instrumental error. After ruling out technical problems, the scientists reached the conclusion that the anomaly was being caused by a gravity wave.
Gravity waves occur when various mediums, such as liquid and gas, fight for a state of equilibrium. The team leader Makoto Taguchi explained, "it's an oscillation of density, pressure, velocity or temperature that propagates in an atmosphere by a balance of buoyancy and gravity forces as a restoring force." This phenomenon occurs on other planets and has even been seen to occur on Earth, but a gravity wave on this scale has never been recorded by scientists before.
The discovery of such an enormous gravity wave has led to a complete re-examination about human understanding of this phenomenon. Ordinarily, gravity waves on Venus occur near the mountainous surface areas and then dissipate just below cloud level. However, this gravity wave completely defies this accepted wisdom. "Given the shape and the fast speed [of the surrounding winds] relative to the background super-rotation, the only reasonable interpretation of the stationary bow shape is that it is induced by an atmospheric gravity wave packet, " write the researchers. "The present study shows direct evidence of the existence of stationary gravity waves, and it further shows that such stationary gravity waves can have a very large scale—perhaps the greatest ever observed in the solar system."
That being said, the researchers still want to conduct further investigations to determine whether their working theory is correct. According to Taguchi, there may be a chance that the gravity wave was forced into the upper atmosphere by a wind variation that they had not previously detected. "We also have to collect more data for statistical studies, " said Taguchi "Ongoing computer simulations will be important to justify a hypothesis raised from the observational results."
[embedded content]
This article (Enormous Atmospheric Anomaly That Spans The Entire Planet Detected On Venus) is free and open source. You have permission to republish this article under a Creative Commons license with full attribution and a link to the original source on Disclose.tv