In 1989, scientists observed for the first time powerful electrical discharges sparking in the upper levels of the Earth's atmosphere during a thunderstorm. This phenomenon, which has been variously named as 'sprites', 'pixies', 'elves' or 'jets' have been mysterious for scientists ever since they were discovered. However, a new study in conjunction with the International Space Station has given scientists a unique opportunity to start understanding the bizarre phenomenon.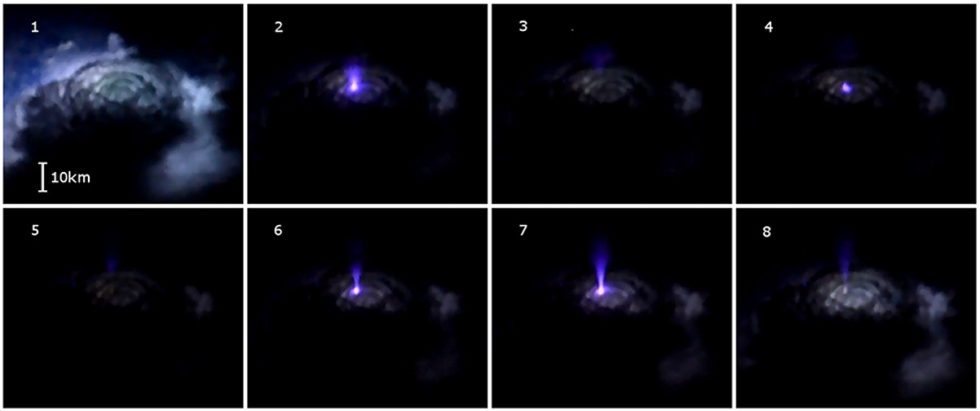 The International Space Station is one of the few locations available to humans to study the sprites which can occur at altitudes of 400km in the upper atmosphere. Astronauts on board the space station agreed to take images of thunder storms under certain conditions in order to collect data that would assist scientists on the ground to understand what was causing the odd flashes of light.
The experiment, which the team dubbed the 'Thor experiment', was incredibly difficult in terms of logistics. The International Space Station moves at a speed of 28,000 km/hour, and the sprites move incredibly quickly, on average only lasting around 20 milliseconds. This means that getting astronauts into a vantage point and in the position to coordinate the image capture was extraordinarily tricky.
Despite all of that, Danish astronaut Andreas Mogensen was eventually successful. From his position on the International Space Station, he managed to capture an extraordinary 245 sprites in a period of 160 seconds during a thunder storm which raged over the Bay of Bengal which lies between India and Myanmar. A team on the ground simultaneously made observations about the atmospheric changes while the event was taking place.
[embedded content]
After the data was interpreted, the scientists concluded that the sprites appear to play an enormous role in the exchange of gasses in the troposphere and the stratosphere. They found that the sprites released a huge amount of various oxides of nitrogen into the upper atmosphere of the Earth. "They underscore that thunderstorm discharges directly perturb the chemistry of the stratosphere with possible implications for the Earth's radiation balance, "the scientists concluded.
This article (ESA Astronaut Captured Portal-Like Sky Phenomenon From ISS) is free and open source. You have permission to republish this article under a Creative Commons license with full attribution and a link to the original source on Disclose.tv