Futuristic science fiction fantasies are brimming with the idea of hyper loops – highly efficient transportation systems that shoot their passengers along tubes at neck-breaking speeds. Now it appears that this sci-fi motif might be making its appearance in the real world in the near future. The innovative start-up company, Hyperloop One, are determined to make dreams of the Hyperloop a reality and have released images of what will soon be the first operational Hyperloop system in the world which is located in the Nevada desert.
Images released of the world's first operational hyperloop system
The notion of a real life Hyperloop was introduced into the public imagination by Elon Musk who open sourced the idea. In introducing his plans to the public, Musk says that he imagined an ultra-fast transit system between San Francisco and Los Angeles and in other urban centers. While Hyperloop One has based their first Hyperloop system in a significantly more remote area than Musk imagined, they say that the first stage of this project is to ensure that the undertaking is viable.
The test site, which the Hyperloop One team have called DevLoop is currently 500 meters (1,640 feet) long and weighs in at a hefty 1 million kilograms (over 2.2 million pounds). The tube-like structure is built to house shuttle pods where passengers will sit as they are hurtled towards their destination at speeds of up to 760 mph. The Hyperloop would travel so quickly that it would reduce a two-hour car journey to a period of only twelve minutes.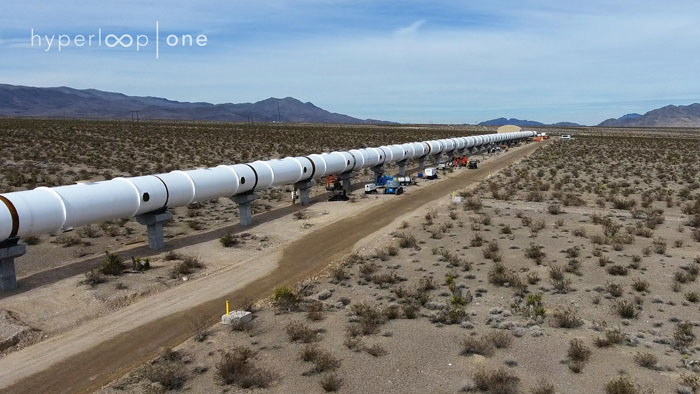 If everything goes well on the test site, the Hyperloop One company hope to move on to building an extraordinarily ambitious Hyperloop system in the United Arab Emirates (UAE) which will link together the cities of Dubai and Abu Dhabi. It is estimated that the proposed project with be astronomically expensive endeavor and is expected to cost around $4.8 billion.
@elonmusk
So Mr. Musk, are you thinking to combine Hyperloop and Tunnels to make transportation revolution.

— OMAR (@OfficeOfOMAR) February 4, 2017