UFOs Known As Foo Fighters Seen In World War II
A long time before pilot Kenneth Arnold claimed to have seen a strange craft flying through the air in 1947 people had claimed that they had seen strange objects in the sky. There is no one that is in a better position to have seen a UFO than a pilot and when pilots during World War II reported seeing mysterious lights there was a new phenomenon born, the Foo Fighters.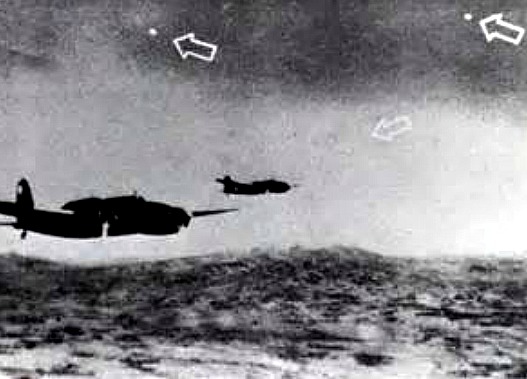 Red Luminous Ball Spotted In Skies Over German Border
A pilot was flying at night close to the border of Germany when without any warning a luminous red ball zoomed close, but it was moving far too fast for the pilot to be able to identify what it was, never mind gives chase to it.
There have been many pilots in World War II that have seen zooming orbs high up in the sky and for a long time they thought that what they were seeing was a new weapon by the Nazis. The strange orbs very rarely varied in appearance; most were multi-colored and round, often fiery red. In mission reports, the sighting of them became close to routine.
Pilot Spotted Red Light Travelling At 200MPH
One mission report stated that the pilot saw a red light that was brilliant in color and which traveled at about 2000 feet heading to the east at around 200 miles per hour close to Erstein. However, to artificial intelligence failure, it could not be picked up contact but managed to follow it until it went out but not getting close enough to it to be able to identify the object.
Investigations had revealed many sightings that were similar which had been made by pilots in Japan and China. This meant that the allies found themselves relieved to have not had a new weapon to have to deal with. The Foo Fighters were said to not be aggressive and they never threatened to attack and it seemed that they were almost like taunting the pilot's thanks to the superior speed along with being able to maneuver fast which allowed them to dart out of sight.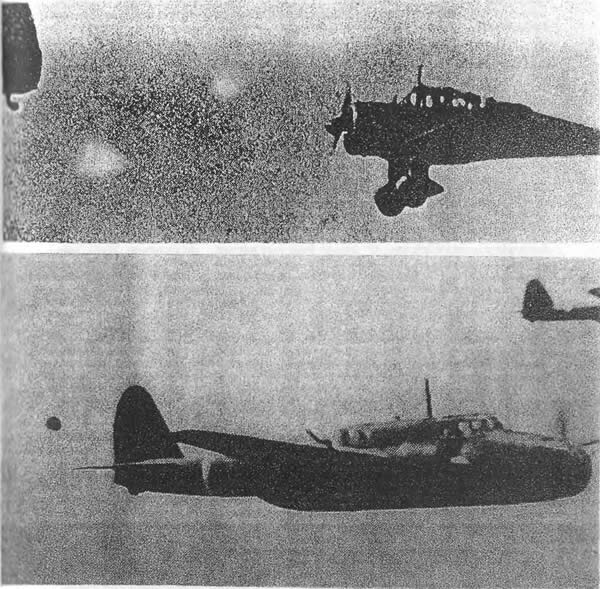 Loose Lips Sink Ships, Pilots Told To Keep Quiet
During World War II there were spies everywhere and soldiers had been told to keep quiet about their missions and plans or there would be consequences that would be dire. One poster that was commonly used at that time had the words Loose Lips Sink Ships.
It, therefore, comes as a big surprise that military censors seemed not to have an issue with the newspapers who reported about the Foo Fighters. Many of the stories said that orbs were transparent or silver in color, instead of them being balls of multi-colored light or red. The newspapers often talked about the Foo Fighters being a new weapon of the Nazis instead of being the mysterious UFOs.
Foo Fighters Get Name From Smokey Stover Comic
The media propagated the name Foo Fighters, with the name having originally come from inspiration from the comic Smokey Stover. In the comic strip, Smokey was a fireman, and he called fire "foo" and called himself a foo fighter. It is thought that Donald Meiers, a fan of Smokey Stover, was first credited for giving the UFOs the name of Foo Fighters. Of course, this was many years before the term UFO, unidentified flying object and flying saucer were used.
It remains a total mystery just what the Foo Fighters actually were. There has always been a pattern that is the same with sightings of UFOs. First, they are reported and recorded and then the skeptics come up with excuses as to what they are. Following this, the sightings are dismissed, with everyone believing that perhaps it was just a weather balloon. Later on, UFO sightings have been said to be explained as just swamp gas or that people have mistaken the planet, Venus, however, skeptics had other excuses when accounting for the Foo Fighters.
Foo Fighters Said To Be Ice Crystals, St. Elmo`s Fire And More
Among the many invented explanations was something given the name of St. Elmo`s Fire. This is said to be a phenomenon with weather that usually occurs following a thunderstorm. It did not matter that the majority of sightings of the so-called Foo Fighters took place when there were no thunderstorms.
Skeptics also tried to pawn off the Foo Fighters as being nothing more than reflections from ice crystals. This is an explanation that comes with many issues with ice crystals not being able to go zooming off at 200 miles per hour. There were numerous sightings of Foo Fighters in the South Pacific, and this is a place where the chances of ice crystals forming were remote.
The Foo Fighters would also be seen on the radar on occasion and this is when they would be flying at speeds that were said to be almost impossible. Weather phenomena and ice crystals are two things that do not form on radar screens.
[embedded content]