The solar eclipse is going to be incredible and it is going to take place on 21 August in the US. There are many eclipse events happening all over South Carolina as this is where the direct line of the shadow of the eclipse is going to fall.
However, another event has been posted that people might want to keep their eyes open for and this has nothing to do with the eclipse, it is more along the lines of a paranormal activity warning.
[embedded content]
The Emergency Management Division in South Carolina has given out a warning about the well-known Lizard Man. This is a figure that is iconic and many people have reported sightings over many decades. The paranormal activity warning has terrified many people. The Lizard Man is said to be a reptilian man who walks upright on two legs and sightings of him have dated back to 1988.
Officials have given warning that the solar eclipse may bring with it some paranormal activity that is unusually high. SCEMD revealed a map of the possible locations of the creature during the day. One of the first sightings of the Lizard Man was said to be in the Scape Ore Swap located in Lee County. The warning has told residents that they should remain vigilant about the Lizard Man, but it does sound like something that might be a script for a horror film.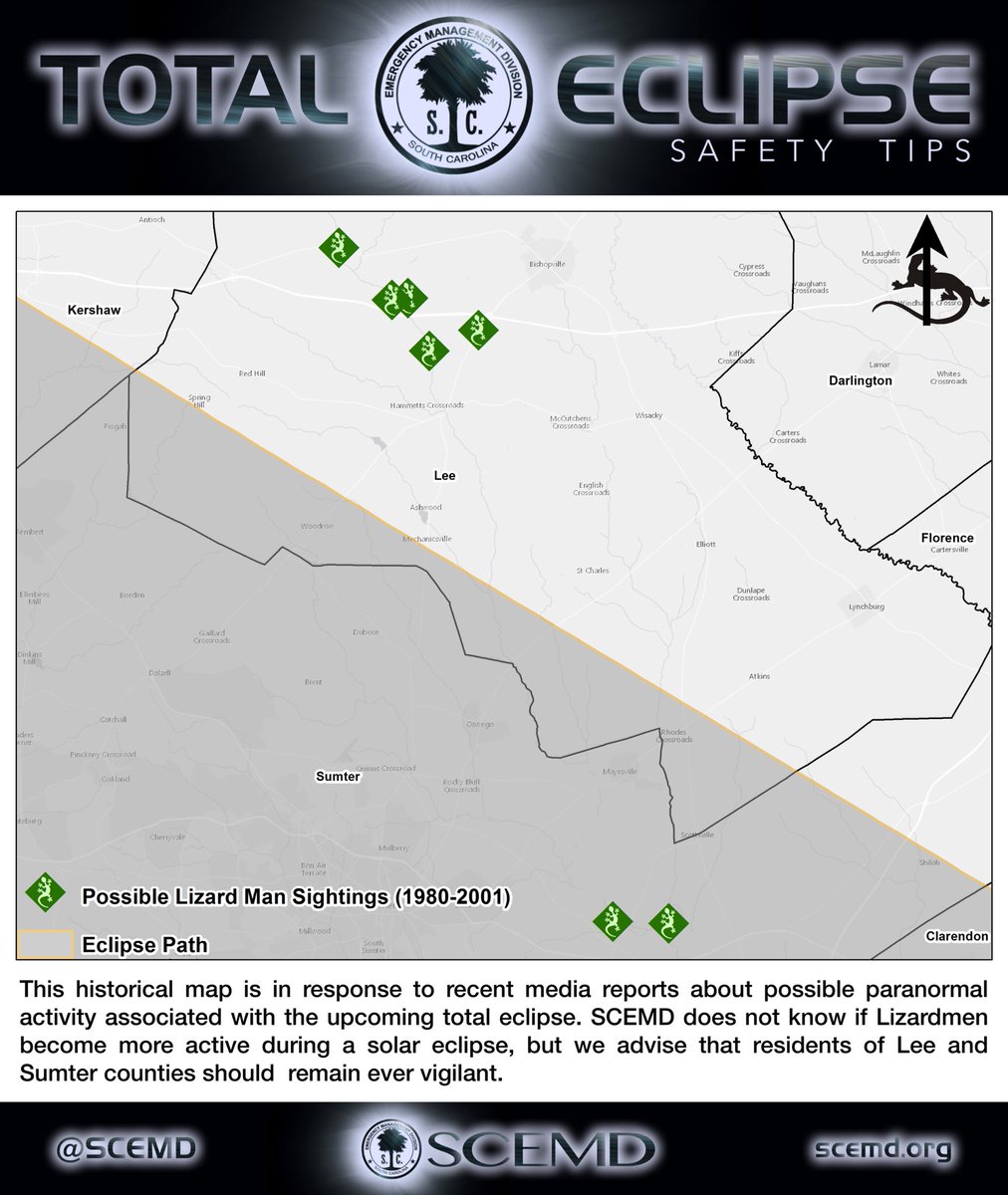 The warning went on to say that while there was no evidence to suggest that the Lizard Man might be wandering around during the solar eclipse, the warning has been given to make sure that all of the residents are aware of the creature.
The warming from SCEMD was given out through Twitter, and they posted what they said was a historical map of sightings of the Lizard Man. They said that they did not know if the creature would be more active while the solar eclipse was taking place, but they wanted to advise people living in the Lee and Sumter counties to be vigilant at all times.
Half of the people in South Carolina will be watching the solar eclipse, which is going to be the real star of the show on Aug 21, while the other half will keep turning around to make sure that the Lizard Man is not creeping up behind them.