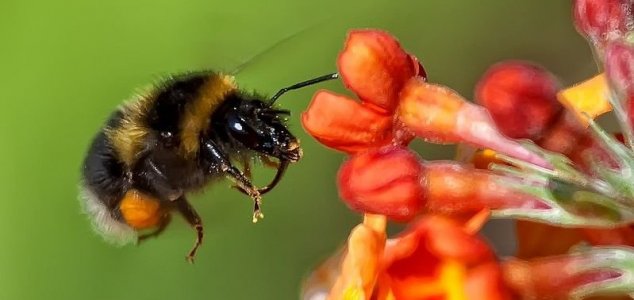 Some pesticides are very harmful to bees.

Image Credit: CC BY-SA 2.0 Mark Winterbourne
The research has indicated that neonicotinoid pesticides are harmful to both honeybees and wild bees.
The mystery of colony collapse disorder may be one step closer to being solved this week following the most extensive study ever undertaken in to the dangers of neonicotinoid pesticides.
The study, which looked at more than 2,000 hectares of Germany, Hungary and the UK, suggested that these common pesticides left honeybee hives with a lower risk of surviving the winter.
Bumblebees and solitary bees were also found to produce fewer queens when exposed to it.
"Our findings are a cause for serious concern," said Professor Richard Pywell from the Center for Ecology and Hydrology in Oxfordshire.
"We've shown for the first time negative effects of neonicotinoid-coated seed dressings on honeybees and we've also shown similar negative effects on wild bees. This is important because many crops globally are insect pollinated and without pollinators we would struggle to produce some foods."
Neonicotinoids were banned in Europe on a temporary basis back in 2013 due to concerns over their impact on bees and officials are now looking to extend this ban further.
Whether these restrictions will be enough to stop the bees' decline however remains to be seen.
Source: BBC News | Comments (2)
The #1 UFO Resource
1 UFOS – News – Books – Videos – Feeds
1 UFOS Search Engine is Powered by the 1 Search Project