Ever wondered how it might look and feel to have color-changing tattoos? This reality is attainable in just a few years, thanks to researchers at MIT and Harvard, who have launched a project called 'DermalAbyss', a joint research venture that combines the technology of both Fluid Interfaces and biotechnology.
This ink that has evolved from using the combination of both technologies is able to respond to bodily changes, such as changes in blood sugar and sodium levels. This is a great leap for diabetics, who are still stuck using a traditional level of pin-pricking their fingers throughout the day to test their blood glucose levels.
The liquid consists of biosensors as compared to traditional tattoo ink. So far, the team has developed three different types of ink that change its color accordingly to the interstitial fluid – to put it simply, the fluid between our cells that make up 16% of our body weight. In addition to the 3, the team has also created ink that responds to pH levels. It shifts from purple to pink in the presence of changing pH levels. Another sensor is one that can detect changing sodium levels, which shines a vibrant green hue under UV light.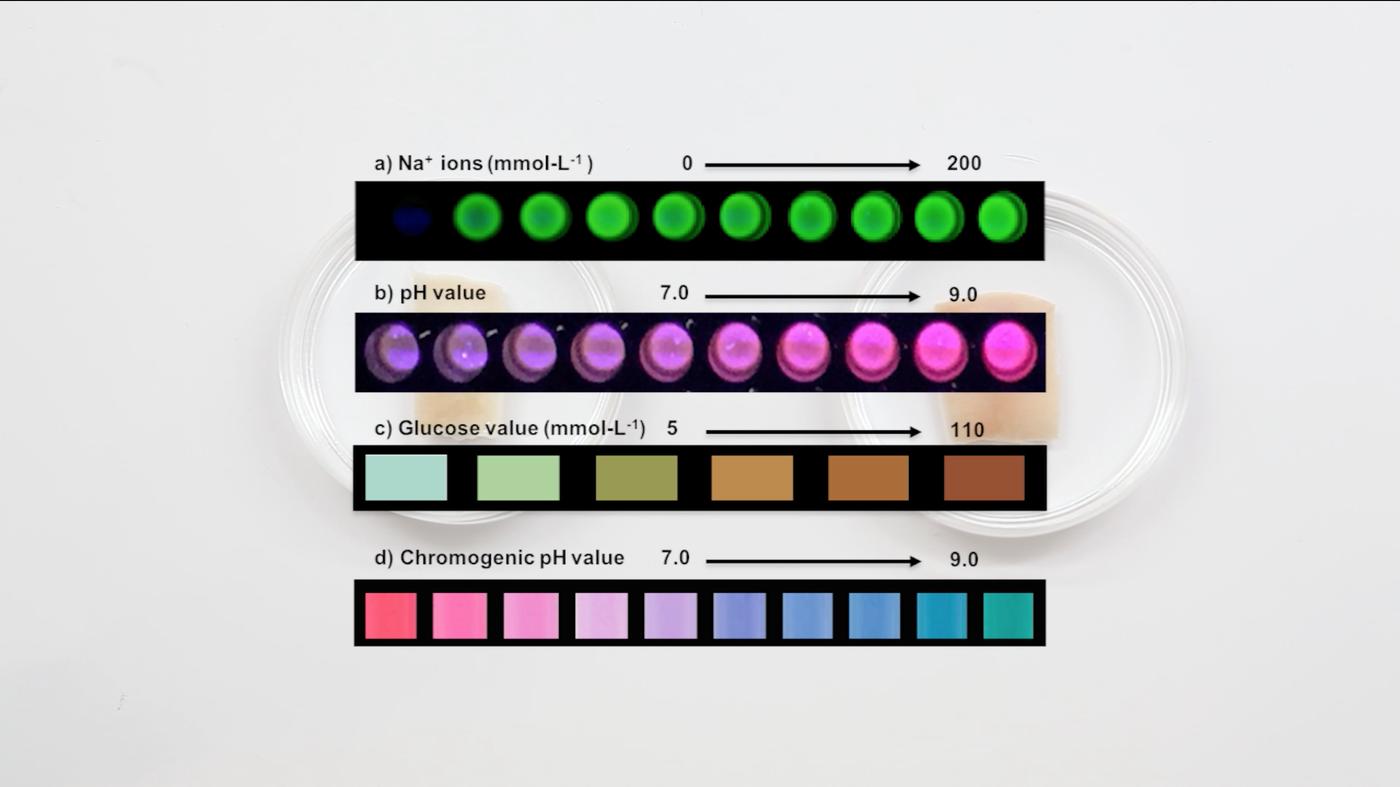 The spectrum of the different ink changing colors
Quoted directly from the project's website, it states: "The Dermal Abyss creates a direct access to the compartments in the body and reflects inner metabolic processes in a shape of a tattoo, it could be used for applications in continuously monitoring such as medical diagnostics, quantified self, and data encoding in the body."
It's an alluring concept to many, from those who truly need it to make everyday life a little more convenient, to the data nerds who find it super cool to track their own bodily changes. A team member, Xin Lu from MIT, has claimed that people suffering from diabetes would email them, saying they would love to try out the ink. However, currently, DermalAbyss is currently only at a proof-of-concept stage and still requires much development, research, and testing before it can even reach the stage of human trials. Moreover, there is also a problem of accuracy: If you were to use a biosensor to indicate changes in the body, its accuracy has to be as accurate as a blood test in order for it to be truly effective. This is another obstacle that the researchers face.
If you're interested in how it might look like in real life, here's a digital rendering of the process
[embedded content]
It might still be a long way to production, but the idea and possibility of it surely open many new doors. At the upcoming 2017 International Symposium on Wearable Computers in September, the team will be presenting their research.