A collection of NASA images showing identical backgrounds from different areas of the moon could provide proof that the Apollo landings were filmed in a production studio. Conspiracy theorists are claiming that these photos show us definitive evidence that the Apollo landings were staged.
New evidence: Apollo Moon Landings faked?
It has long been speculated that the Apollo Moon landings were a fraud carried out by the National Aeronautics and Space Administration (NASA) to claim an advantage in the Cold War Era space race. Skeptics of the moon landings are declaring that these two photos taken during the Apollo 15 mission in 1971 were taken several miles apart yet both show an identical background; that which would only be present in a studio environment and not on our own Moon.
In the first image the landing module of the spacecraft- the Eagle are present and there are rover tracks seen leading far away from the landing site. In the second image a rocky terrain is seen situated several miles away from the landing module, but the background remains the same.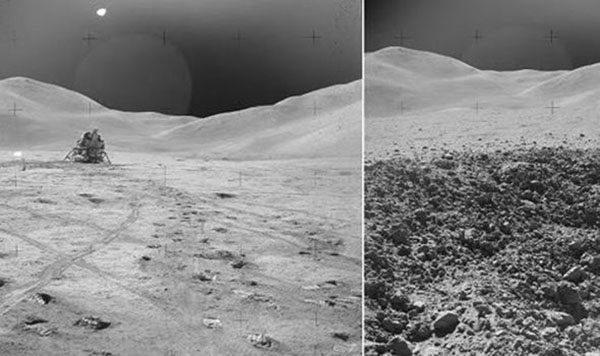 When conspiracy theorists overlaid these two images, they found that not only did the two images appear the same side by side – they even found that the outline of the horizon and mountains; the whole landscape of the moon lined up flawlessly.
David Percy, who believes strongly that the Apollo missions were staged, stated that:
"Our research suggests that images of the Apollo landings are not a true and accurate record; in our view the Apollo pictures were faked. Many of the images are replete with inconsistencies and anomalies."
Percy believes that it is impossible for two images taken at separate locations to have identical horizons, and believes that the images have been manipulated to make it appear as though they were taken on the surface of our moon.
NASA, on the other hand strongly maintains that the images are original. Officials have explained that due to the Moon's smaller size that Earth, the horizon appears closer that it is and may appear similarly even from differing angles and locations.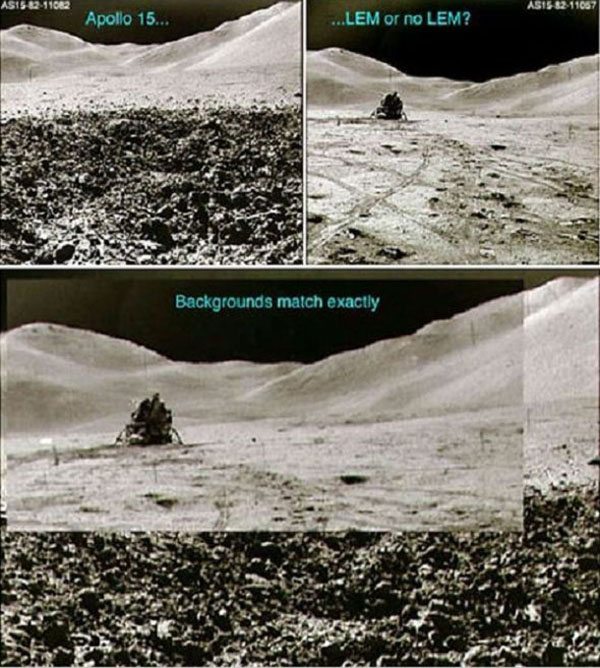 There is an ongoing effort to debunk these conspiracy claims with some stating that the appearance of the horizon is because the Moon has no atmosphere and that visibility is therefore much higher that it is on Earth's surface. In these images, the mountains may appear identical due to the lack of atmosphere and the lack of the distortion that this causes.
Badastronomy.com's Ian Williams Goddard writes that:
"Examination of the photographic archive of the Apollo 15 mission clearly proves that the mountains in the background are large and distant enough that they can be seen and look similar from myriad points of view with or without the lander in the foreground."
Even though Ian's explanation sounds logical enough – and I'm no expert – I don't think we can afford to be fooled when the evidence sits right in front of our eyes.