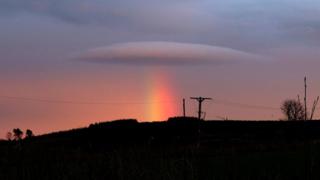 Photos of unusual cloud formations complete with a reflection of a rainbow have been captured across the north east of Scotland.
A photo was posted by BBC Scotland's North East Twitter account on Sunday evening after the sight was spotted in Aberdeen, and followers joined in.
One, taken at Rickarton, looked like something from a sci-fi film.
BBC Scotland weather presenter Judith Ralston said they were lens-shaped lenticular clouds.
She added that rain or light snow above the atmosphere would have added the rainbow reflections.
She said: "There are some lovely colours. Lenticular clouds can be mistaken for UFOs. These are great pictures."
One response to Trish Macfarlane's image on Twitter taken at Rickarton, from Althea Tindell, said: "UFO or not those pics are fantastic!"
They are properly known as Altocumulus Lenticularis.
Do you have pictures or videos of the lenticular clouds and rainbow? Send them to the BBC Scotland news website at newsonlinescotland@bbc.co.uk