Scientist concludes after forty years of investigation that 1971 incident was a UFO landing.
Dr. Erol Faruk has spent the past forty years engaged in investigating a single unusual occurrence in Delphos, Kansas in 1971. Now he has published a book of his findings named 'The Compelling Scientific Evidence for UFOs' in which he definitively concludes that there was a UFO landing in Kansas.
A sixteen-year-old boy named Ron Johnson was tending to the sheep on his family's farm with his dog Snowball at around 7 o'clock at night when he spotted a large, mushroom-shaped UFO looming over the horizon. He described the object has being studded with multi-coloured lights which blazed dazzlingly as it ascended to the ground. Johnson immediately fled to the family home where he alerted his parents who ran out to see the mysterious object. They both caught a glimpse of the mushroom shaped object as it disappeared from view.
[embedded content]
The family examined the scene where the UFO had landed and spotted a glowing ring on the ground. They said that the glowing material left on the grass and present on several trees in the nearby vicinity "felt strange, like a slick crust, as if the soil was crystallized." Mrs. Johnson touched the crust and found that it had a peculiar effect, almost like a numbing anesthetic sensation.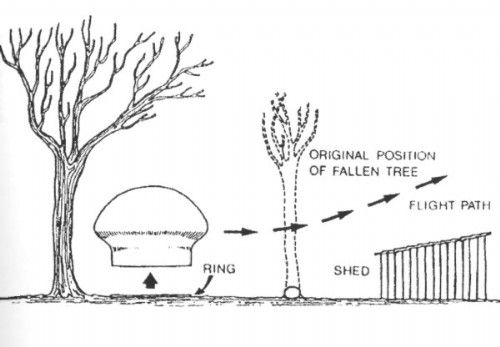 The Johnson family immediately contacted the authorities who attended the scene. The Deputy Sheriff Leonard Simpson sad that they were not the only people to have contacted the police about a suspected UFO in the area. He said that at 7.30 of that same night a man named Lester Ensbarger had also independently contacted them to say that he had seen a bright light descending over Delphos.
Soil samples of the material deposited by the UFO were collected and sent to laboratories across the country for analysis. This is where Dr. Faruk, who was based at the University of Nottingham in the United Kingdom, stepped in. Dr. Faruk said; "Placing water onto the affected soil was very like placing it onto a glass surface, with the water spontaneously forming into droplets sitting on the surface." He said that after many years of trying, he was still not able to fully identify the chemical composition and described it as "a highly water-soluble organic compound which is potentially chemiluminescent". Dr. Faruk said that this composition could have been the reason for the strange glow at the time.
According to Dr. Faruk, he was entirely convinced that this was a genuine UFO sighting. He said that the presence of both the large mushroom shaped object and such an incredibly complex chemical compound meant that the sighting was far too elaborate to be a hoax.
Dr. Faruk has conducted most of his investigation on his own time as his employers at the university informed him that he was investigating 'inappropriate' subject matter.
This article (Scientist Claims To Have Compelling Evidence A UFO Landed In Delphos, Kansas) is free and open source. You have permission to republish this article under a Creative Commons license with full attribution and a link to the original source on Disclose.tv