Boston native Jonathan Davis was stunned when he witnessed dozens of wild turkeys descend on the site where a cat had been hit by a car and killed in the middle of the road. The wild turkeys then proceeded to perform a bizarre circular march in eerie unison around the prone body of the feline. What could be behind this unusual behavior?
Why are these turkeys circling a dead cat in the street?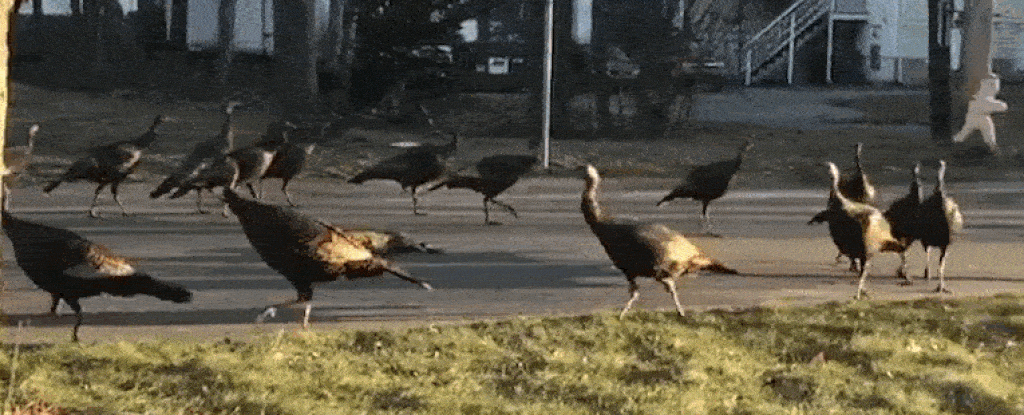 While the circling March might look like a terrifying and completely bizarre ritual, it is actually not untypical behavior for wild turkeys. "They're just making sure that it's no longer a threat, "Mark Hatfield from the US National Wild Turkey Federation said. Wild turkeys, especially the females, are incredibly nervous animals as they have very feeble natural defense characteristics. This means that they are always very keen to make sure that potential predators are dead before they move away from them. It is likely that the turkeys identified the cat as a possible threat and began circling it to make sure that it was really dead. This circling in a huge pack protects the individual from possible attack and also signals to other turkeys in the area that there is something potentially dangerous close by.
But this explanation still leaves a question mark over this unarguably creepy scene. Why did the turkeys continue to circle the dead cat when it should have become quite apparent that it was dead and no longer a threat? According to researchers in wild turkey behavior, the answer is very simple – turkeys aren't very smart. The continual circling despite the fact that the threat was neutralized is probably because the turkeys were simply following each other instinctively rather than taking the initiative to move away from the scene. "It's more of a curiosity type of thing. Turkeys are very basic, " explained Mark Hatfield.
These turkeys trying to give this cat its 10th life pic.twitter.com/VBM7t4MZYr

— J… (@TheReal_JDavis) March 2, 2017