A recent report by TwitterAudit shows that over seventeen million of CNN's Twitter account's thirty-six million followers are fake, which means only about 52% of their followers are legitimate.
TwitterAudit is a site that determines the quality of a Twitter account's followers. They first take a look at the followers' tweeting history and follower to following ratio before giving them a rating on a scale of 0-5. These scores are used to determine the overall legitimacy of the followers. As you can clearly see, the majority of CNN's followers are in the lower spectrum of 'reality points'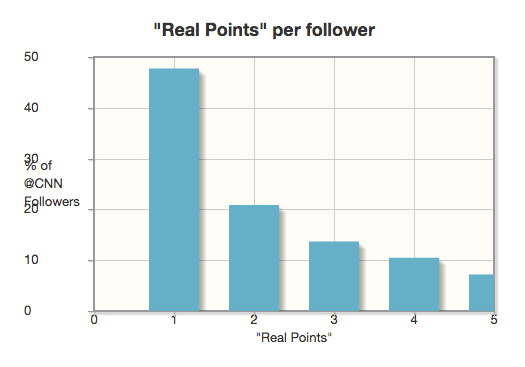 In comparison, Breitbart News is at 96% real followers.
and Fox news is at 53% real followers
However, this system is not perfect. TwitterAudit does not differentiate between fake followers and those who are just simply not very active. Fake followers are bot accounts who are sold to people and cannot engage in conversations or posts in the same way real people do, if at all. Inactive followers are real people who might not use Twitter as often or check their feed, but do not comment or post regularly themselves Because information that could help determine whether an account with a low score is fake or just inactive such as their number of logins are not taken into account, it is possible that not all followers labeled 'fake' are bots.
In recent years, CNN has faced many attacks claiming their reporting practices are illegitimate, such as Trump's remarks that CNN is a fake news. This report, while it might not be one hundred percent accurate, certainly doesn't CNN and the way they are perceived.