William of Occam has advice for modern truth seekers.
UFO experts are puzzled over the discovery of a massive circular object that appears to have moved erratically on the Pacific sea floor. The discovery has recently become the object of an alien hunter video, sparking speculation.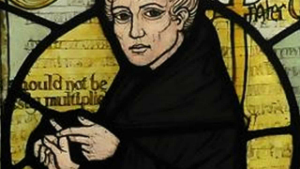 William of Occam has some advice for our intrepid investigators.
LOS ANGELES, CA (California Network) — Alien hunters have posted a video to YouTube which they claim shows a UFO on the Pacific sea floor. The object is visible on Google Maps off the coast of British Columbia; 400 miles west of Moresby Island.
Zooming in on the sea floor in Google Earth, a massive, round formation can be seen with a squiggling trail behind it. From all appearances, it appears the object made the trail in the sea floor by slowly trundling along a meandering path. This gives rise to the question, "what could it be?"
The round object, more of a lump than anything, is about 2.5 miles across.
The vast majority of the sea floor is unexplored, and only a fraction of it is mapped in any detail. Most of the data that shows us what the sea floor looks like is approximated. That means it's the best guess made using models of what could be down there. Therefore, our round object might not be very round at all.
There appears to be no explanation yet for the trail that is assumed to be behind it.
Perhaps the object could be a massive alien spacecraft? There have long been reports of mysterious objects underwater, and if aliens wanted to hide from humans, the ocean, and not a desert military base, seems a more logical choice.
However, there is no evidence the object is anything other than an unexplained natural formation. Indeed, this is the explanation for most UFO sightings. People catch glimpses of unfamiliar things and the brain fills in details the eyes missed. Add a spotty memory and a little imagination, and before long the planet Venus, low in the western sky becomes a spacecraft with windows and lights, flying in erratic patterns.
Every alien sighting we have investigated has one thing in common, all of them are not aliens. In fact, there is zero credible evidence aliens have ever visited Earth. And while most people assume aliens exist, there remains no hard, scientific evidence that aliens actually exist.
The far more likely explanation of what is on the Pacific sea floor is that it's a natural phenomenon we simply don't yet understand, mostly because we have not made a good observation of it yet. This is a far more plausible explanation than aliens.
This is what the medieval Catholic monk, William of Ockham (1287-1347) would have concluded as well. Ockham was a scholar and a monk who developed one of the most useful philosophical tools we have today, known as "Occam's razor."
Occam's Razor is a guideline that states: among competing hypothesis, the one with the fewest assumptions should be selected.
Unless you live in certain parts of Africa or a zoo, when you hear beating hooves you should think "horse" not zebra. Likewise, applying Occam's razor to the present mystery, we should prefer to think we are dealing with a natural phenomenon that simply needs study. The idea of aliens existing, developing spaceflight, flying to Earth and building a 2.5-mile mobile base on the Pacific sea floor simply requires too many assumptions to be credible.
—
Copyright 2017 – Distributed by THE CALIFORNIA NETWORK
Pope Francis Prayer Intentions for MARCH 2017
Support for Persecuted Christians. That persecuted Christians may be supported by the prayers and material help of the whole Church.